John Eng Receives James McFall Award
---
---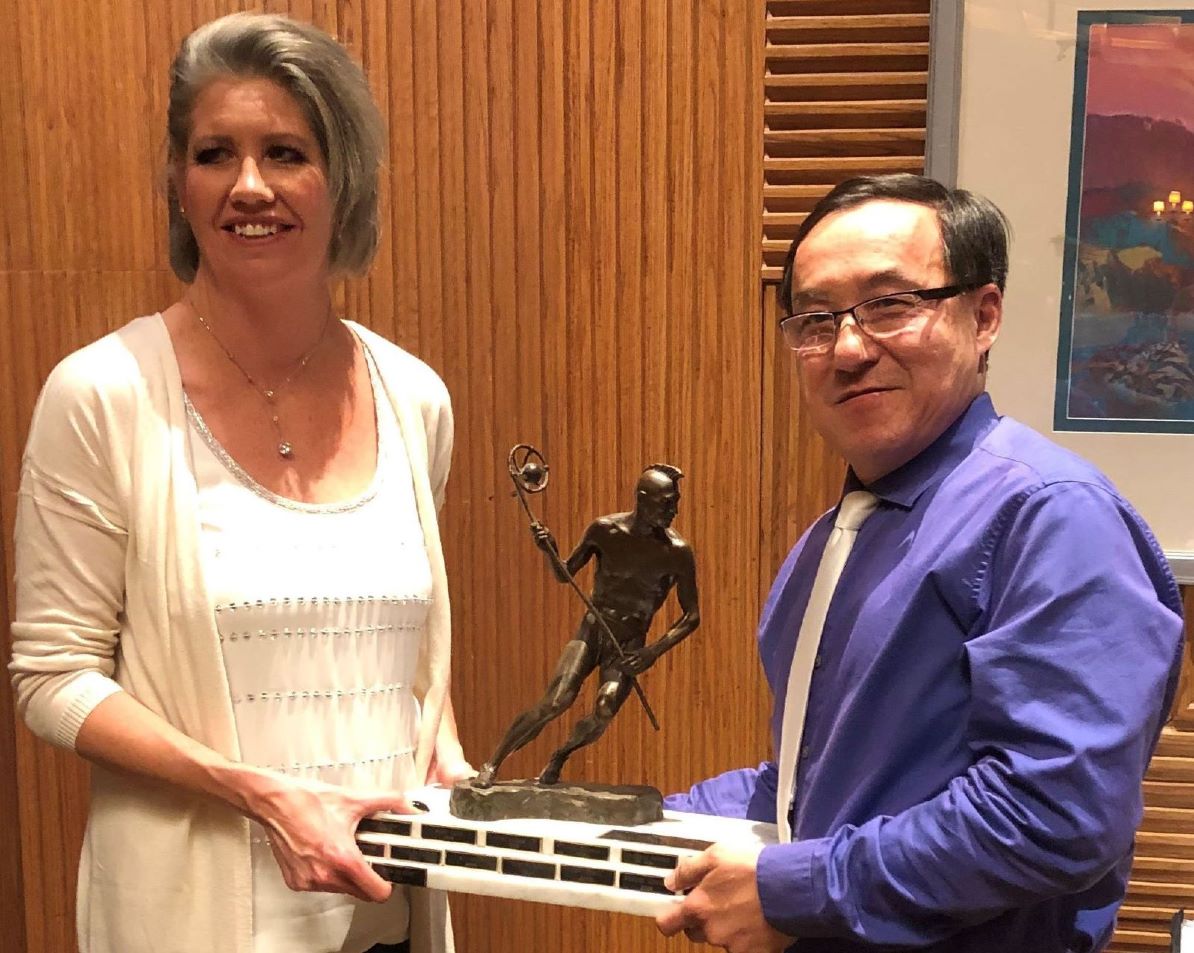 ---
In 2001, John Eng and a group of hockey dads sat down in Lethbridge to form the Lethbridge Lacrosse Association (LLA). 2 years later, these same founding members were instrumental in the formation of the Southern Alberta Lacrosse League, now known as SALA. The league included teams from Lethbridge, Medicine Hat, Brooks and Pincher Creek.
With new clubs running in a new league, many hats had to be worn. John attacked everything at once. In 2002, he began as a clinician at the LLA Summer Skills Development for coaches. That same year, he became a level 1 certified referee with the ALRA, and also sat as Vice President of the LLA. By 2004, he was facilitating Community Coach Initiation and Community Development Box Clinics throughout SALA, for the ALA. In 2005, he became a certified level 3 referee with the ALRA. (and he has been reffing ever since) He added teaching Competitive Intro Clinics to his repertoire in 2010, became a CLA Lacrosse Fits Facilitator in 2012, and a Master Coach Developer in 2017. Not only was he facilitating coaching clinics, and reffing all over SALA, but from 2004-2006 John was sitting as President of both the LLA and SALA. On the side, John coached teams even before LLA was officially formed beginning in 1998, to generate interest in the game of Lacrosse throughout his community.
From 2003-2017, John has been a head coach, or assistant coach for every division from Novice - Junior Tier 2 in Lethbridge. Many times, he was coaching or assisting with multiple teams through a single season. He also took on Assistant Coach roles with Team Alberta in 2005, coaching with both the Pee Wee and Bantam boys box teams. He resumed his role again in 2008, as an assistant with the Pee Wees, and returned a final time in 2011, as the Bantam Boys Box Head Coach.
He coached a Bantam SALA Selects team at the 2006 Southern Alberta Summer Games, winning gold. In 2010 he was the Zone 1 Head Coach at Alberta Summer Games, finishing with a silver. From 2012-2017, John coached or assisted with the Lethbridge Junior Tier 2s. Through these years, the teams won 2 silver and 2 gold medals at Provincials. Notably, the 2017 team John was assistant coach with won Provincials, finishing with a perfect 24-0 season.
John held President roles in both Lethbridge and SALA. He also sat on the ALA board from 2006-2008 as Chair of Promotions and Development, and again took that role on in 2010. He was a Director of Officials in LLA in 2011-12, and sat as the Lacrosse Chair for the Alberta Summer Games in 2012. He sat as SALA President in 2016, to guide a new board forward.
Not only did John give so much of his time to the game of Lacrosse, but he was a coach with Lethbridge Minor Hockey for many years. He is also completing his 32nd year in the Faculty of Arts and Science, Department of Chemistry and Biochemistry, where he teaches Chemistry.
In 2011, John was inducted into the Lethbridge Sports Hall of Fame for his huge contribution to sport in Lethbridge. Last year, John was awarded the ALA Ekke Loo Memorial Award, which recognizes those who exemplify integrity and dedication to the This year, John Eng was presented the ALA's James McFall Award, which is given to a volunteer who has made a significant contribution to the game of lacrosse.
Congratulations John, SALA thanks you for your hard work to establish lacrosse in Southern Alberta. We will continue to move forward with your commitment to grow the game in our region, and province!